Step 2 CS Tutoring (previously USMLE)
'A glimpse about the practice and how we tutor the Step 2 cs exam'
Many foreign medical doctors who participate in our Step 2 CS course have taken advantage of individualized tutoring outside of the established class time. This specialized training allows for a more in-depth look into your communication skills and your ability to conduct a thorough interview in 15 minutes.
  The focus of the one-on-one sessions will center on your ability to interview a standardized patient. Multiple recorded and timed interviews will be conducted by you, the student, in a setting where your skills will be challenged, critiqued and analyzed. Emphasis will be placed on dissecting your accent, improving your intonation and perfecting the pronunciation of your spoken English. 

Because all practice interviews are recorded in these one-on-one sessions, you will benefit from repeatedly being able to hear yourself on tape. Through repetition and practice, you will develop a better sense of timing as well as the grammar of everyday conversational English.
It is through these exercises that you will also start to get a feel for which questions are important to ask your patient. This is an invaluable skill – with only fifteen minutes to conduct an interview, it is crucial that you ask the proper case-related questions.
One-on-One tutoring through CSE Review will ensure that you do! Contact CSE Review founder,  Dr. Sermarini at DrSermarini@CSEReview.com to learn more information about content, costs and availability of these irreplaceable one-on-one sessions.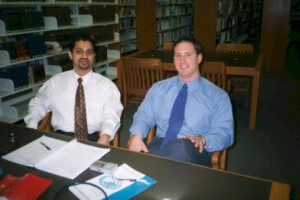 Dr. Sermarini and one of his first international student doctors – 1999